Inman News
Windermere Chief Economist Matthew Gardner takes a look back at his pre-2023 market predictions to check his math and his accuracy
BY MATTHEW GARDNER
As we hit the mid-year mark, some of you have been asking me how well my forecasts for 2023 have been holding up.
So, I took a look at my "Top 10 for 2023" to see how accurate it has — or hasn't — been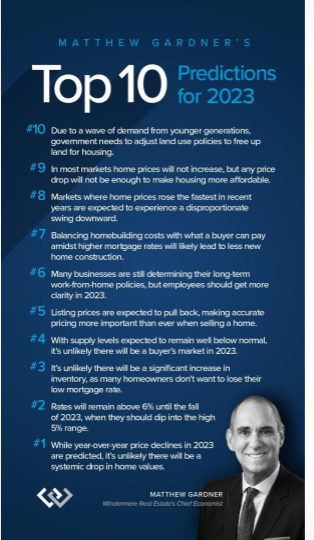 These were the predictions I made last November that covered everything from my expectations for home sales and prices to shifting government policies.
So how have my forecasts performed so far?
I expected sale prices to fall, but that we would not see a systemic decline in values.
And here you see that — year-over-year — prices are down by a bit less than 2 percent, but when you look at the monthly change, prices rose 3.6 percent between March and April, and are up over 6 percent since last December.
I still stand by my forecast that the median sale price this year will be modestly lower than the 2022 number — but I still don't see prices eroding in a way that some had expected.
We broke into "the sevens" eight times so far this year — the first time because of the banking crisis, and the second because of the looming debt ceiling. I expect to see rates become a little less frantic as we move through the second half of the year, but I still don't see them breaking below 6 percent until the end of this year, all things being equal.
Listing activity saw a late spring bump, but for perspective, listing activity is running at about 40 percent of its long-term average, and is unlikely to improve much this year. Why? Well, by my calculations, there could be over 25 million homeowners with mortgage rates around 3 percent; why would they move?
And with limited inventory, the market still "technically" favors home sellers. Now, this is a little speculative because what defines a traditional "buyers" or "sellers" market varies by location, but with relatively few homes on the market – and the share of homes with price reductions dropping and list prices rising again – I just can't see a traditional buyers-market appearing this year.
Well, this doesn't look to meet my forecasts! Sellers have been pretty bullish, but I would add that this is not true across the whole country. List prices are still down significantly in markets such as Hailey, Idaho; Jasper, Alabama; and Elko, Nevada where list prices for single-family homes are down between 30 percent and 50 percent from their peak.
So, I admit that the country has outperformed my forecast in terms of list prices.
As I had expected, the pace of workers heading back to the office had not been very robust. In fact, the share of people in the office full time dropped to 42 percent in the second quarter of 2023, down from 49 percent in the first quarter, according to The Flex Report. Meanwhile, the share of offices with hybrid work arrangements hit 30 percent in the quarter, up from 20 percent the previous quarter.
That said, I still expect to see more workers heading back to their offices — albeit very reluctantly.
With new home permits down 21 percent year over year, and new home starts off by 28 percent, I think it's accurate to say that activity has slowed. This sector continues to be hit by high financing rates as well as high prices.
As we all know, not all markets are created equal, and this chart shows how far below the 2022 highs some of the metro areas are but …
On the opposite end of the spectrum, there are some markets where prices have already exceeded the highs seen last year.
Affordability has not improved — mainly due to home prices that remain out of sync with incomes — and financing costs that remain well above the level that buyers had become used to. This will not improve this year.
I suggested that governments would start to move to address the significant housing shortage that the country is experiencing, and they have.
Here in Washington State, Governor Inslee recently signed House Bill 1110 into law which allows the development of duplex up to six-unit buildings within any area zoned for single-family-only development.
Additionally, jurisdictions across a significant number of States are either pursuing legislation to tackle this problem or have at least created Taskforces to look at the issue. It's a good start, but more needs to be done.
Although it's really cheating to grade one's own work, I think that I have been pretty accurate with my forecasts.
Yes, I was too pessimistic when it came to list prices but, other than that, the data seems to suggest that the housing market is headed in the direction that I suggested.
Matthew Gardner is the Chief Economist for Windermere Real Estate, the second largest regional real estate company in the nation. Matthew specializes in residential market analysis, commercial/industrial market analysis, financial analysis, and land use and regional economics. He is the former Principal of Gardner Economics, and has over 30 years of professional experience both in the U.S. and U.K.