Inman News
The housing sector's resilience to higher prices and mortgage rates has bolstered prices, but a lack of for-sale inventory is expected to limit sales, according to Fannie's latest monthly forecast
Strong homebuyer demand is providing more support for home prices than economists at Fannie Mae had expected at the beginning of the year, but forecasters at the mortgage giant expect tight for-sale inventory will keep sales "subdued" for the rest of the year.
In their latest monthly forecast, economists with Fannie Mae's Economic and Strategic Research (ESR) Group said they expect the Federal Reserve to implement a final 25-basis rate hike in May and then begin bringing rates back down by the end of the year as the economy enters a "modest recession."
"The economic slowdown has resumed – whether the end result is a modest recession or simply a soft landing remains unanswered – although we continue to expect the former, as we have since April of last year, when we first made our 2023 recession call," Fannie Mae Chief Economist Doug Duncan said in a statement.
National home price declines seen as peaking next year
Source: Fannie Mae Housing Forecast, April 2023.
While Fannie Mae's ESR Group updates its forecasts for home sales, mortgage originations and mortgage rates on a monthly basis, projections for national home price appreciation are revised quarterly.
In January, home prices were looking soft to Fannie Mae economists, who forecast that national home prices would drop 4.2 percent on an annual basis during the fourth quarter of 2023.
The theory at the time was that last year's abrupt runup in mortgage rates and the dramatic home price gains during the pandemic would create affordability challenges for many would-be homebuyers. While that's still the case in many markets — regional Zillow Home Price Indices show some metros have already experienced nearly 10 percent home price declines since the summer of 2022 — homebuyer demand has proven resilient, particularly when mortgage rates dip.
The latest Fannie Mae forecast is that home prices will be stickier on the way down, with national home price appreciation declining by 1.2 percent on an annual basis during the fourth quarter and peaking at -2.6 percent during the second quarter of 2024.
"The greater-than-expected resilience of the housing sector to the affordability pressures of higher home prices and mortgage rates is central to our expectation that the recession will be modest," Duncan said. The rapid response of would-be homebuyers to periodic declines in mortgage rates "gives us additional confidence in our use of the word 'modest,'" Duncan said.
Mortage rates expected to continue on downward trajectory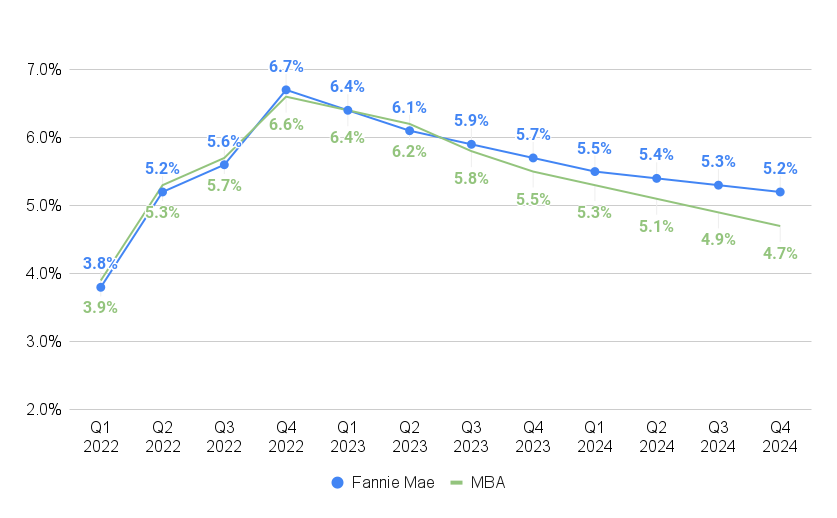 Source: Mortgage Bankers Association, Fannie Mae Housing Forecast, April 2023.
With the economy still looking likely to enter a recession, economists at Fannie Mae and the Mortgage Bankers Association (MBA) expect mortgage rates will continue to decline from 2022 peaks.
In an April 17 forecast, MBA economists said they expect rates on 30-year fixed-rate mortgages to average 5.5 percent by the fourth quarter of this year, and drop below 5 percent in the third quarter of next year.
Fannie Mae forecasters aren't quite as optimistic about the pace of declines and don't expect rates to dip below 5 percent anytime soon, saying Federal Reserve policymakers are still analyzing what the impact of recent bank failures and tighter lending conditions will be on inflation.
"Given continued persistence in core inflation in recent months, we therefore expect that one way or another, there will remain an increasingly restrictive monetary policy path in the near term," Fannie Mae economists said in commentary accompanying their latest forecast. "It's only a question of how many additional rate hikes occur versus how much lending conditions further tighten due to banking pressures."
Fannie Mae economists think the Fed will raise the short-term federal funds rate one more time in May, before reversing course lowering the benchmark rate by 25 basis points in the final three months of the year if there is a recession and weakening of the labor market.
If a recession doesn't happen and inflation doesn't cool, there's "the possibility of another jump in mortgage rates," Fannie Mae forecasters warned.
"While short- and long-run rates do not necessarily move together, previous instances of the market's predictions of an early pivot in Fed policy have coincided with meaningful increases in mortgage rates after those expectations turned out to be unfounded," the ESR Group's commentary warned. "This, of course, would weigh on housing activity more than our baseline forecast suggests."
Home sales seen as rebounding next year
Source: Fannie Mae Housing Forecast, April 2023.
With February data showing stronger than expected homebuyer demand, Fannie Mae economists upgraded their forecast for home sale for the rest of the year. But even if the new 2023 forecast of 4.2 million existing home sales comes in as projected, that would be the slowest annual pace since 2010.
New listings were down 20 percent in March compared to a year ago, a trend that's thought to be driven largely by the "lock-in effect," which discourages many homeowners from moving because they don't want to give up their existing, lower mortgage rates.
"In short, while we anticipate the recent modest pullback in mortgage rates following the banking turmoil in March to put a little more energy into the spring homebuying season, the total volume of sales is likely to remain subdued," Fannie Mae forecasters said. "Beyond the lack of inventory and the lock-in effect, affordability constraints also remain."
Outlook for purchase mortgage originations upgraded
Source: Fannie Mae Housing Forecast, April 2023.
The stronger outlook for home sales and prices prompted Fannie Mae to upgrade their March forecast for 2023 purchase mortgage originations by $104 billion, to $1.345 trillion, and by $86 billion in 2024, to $1.434 trillion.
That would still represent a 19 percent decline in purchase loan originations from 2022 to 2023, before purchase lending is forecast to rebound by 7 percent in 2024.
The recent downward trajectory of mortgage rates also implies a slightly brighter outlook for mortgage refinancing compared to March, with most of the improvement expected next year. After upgrading their forecast for 2023 mortgage refinancing by $3 billion, Fannie Mae economists are expecting $312 billion in mortgage refinancing this year. A $46 billion upgrade to the 2024 refinancing forecast brings the total refinancing volume expected next year to $584 billion.